Font Manager for windows

X-Fonter 10.0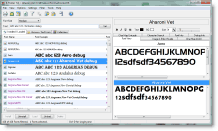 • Font Viewer,
Font Manager
and 3D Graphic Program
• Supports all font types
(TrueType, OpenType, Postscript, Raster, Vector)
• Activate and deactivate fonts
• Organize your fonts in Collections
• Print font overviews or font details
More Info »
Download »
Buy Now »
Special Offer
Buy
X-Fonter
today for only
$30
$35
Register Now (Paypal)
---

Disk Recon 10.1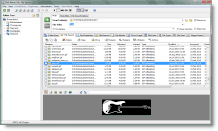 • Examine your folder sizes and help clean it up
• Folder sizes, duplicate files, file search, file monitor...
• Duplicate folders
• Reporting in HTML format or directly in MS Excel
• Bulk file renaming and attribute changing
• Advanced file search (using regular expressions)
More Info »
Download »
Buy Now »
---

ColorMania 6.3
• Color Picker for easy selection and modification of Colors
• Ideal tool for website and application developers
• Create custom color palettes
• Supports different color models (RGB, HSV,...) and color formats
• System tray application
---

Mousotron 12.1
• Mousotron measures your mouse and keyboard activity.
• The latest version now also includes an idle time counter.
• Upload your statistics online.
• English, Spanish, German, Dutch, French, Swedish, Norwegian, Portuguese
---

Magnifixer 6.1
• Magnifixer is a screen magnifying utility. (zoom up to 40 times)
• Perfect tool for developers and designers
• Mouse tracking or Fixed location view
• Supports dual monitor setup
• System tray application
---

FlashTray Pro 5.0
• System tray application launcher.
• FlashTray sends predefined keystrokes (or macros) to any application.
• Launcher for programs, documents, folders and URL's.
• Saves you lots of precious time.
---

Texefex 3.2
• Create gradient text effects in your documents or webpages.
• Convert images to text
• Output in HTML or RTF (usable in Outlook, Word, Powerpoint and more)