Mousotron 12.1
Platform
: Windows 7/8/10
Size
: 1144 KB
Type
: Freeware
Download Now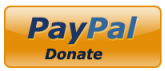 Mousotron
Mouse and Keyboard Usage Measurement
---
• How many miles does your mouse cursor travel each day ?
• How many mouseclicks did you do ?
• Ever compared your mileage with other people ?
---
What is Mousotron ?
Mousotron is a mouse and keyboard activity monitor and keeps statistics of your mileage. It's like an odometer or tripometer for your mouse cursor.
It calculates just how far your mouse cursor has traveled on your screen and how many times the mouse buttons were clicked. Also the number of keystrokes on your keyboard are counted.

Why should I use Mousotron ?
Basically it is just fun to use and it is free, so why not try it ? It's even more fun to compete with your friends or co-workers.
You can even post your scores online and compare with users around the world.
You can view the online statistics here :
Results
But on a more serious note it can also be a very handy tool in ergonomics and RSI prevention (Repetitive Strain Injury) or the rehabilitation of it.
Mousotron keeps track of the following statistics :
- Distance traveled
- Left, middle and right button clicks
- Double clicks
- Mousewheel scrolls
- Cursor Speed
- Number of keystrokes
- X and Y Coordinates
---
---
Mousotron calculates the statistics regardless of which programs you're using, even when you're gaming. Mousotron just needs to sit in the system tray. It uses very little resources so you will hardly know it is running in the background.
If you want to keep track of your results on the fly you can also configure to display the results on top of all other windows.
You can configure which of the above items need to be displayed on screen. The distance is displayed in the metric system (km, m, cm) or the English system (yards, feet, inches).
Mousotron supports all major languages, including English, French, German, Dutch, Spanish, Portuguese, Swedish and Norwegian.
How does it work ?
When mousotron runs it installs a systemwide mouse and keyboard hook so it receives all the messages sent by these devices and interprets them in way that it can keep the scores accurate. (Some additional calculation is necessary for the distance).
Mousotron is completely safe to use. Mousotron only counts what you type, and does not remember what you type.
Even when you submit scores to our website, no personal information is sent to us, only a set of counters.
Mousotron on your own website
If you have some PHP programming skills you can easily create your own system to track your results. If you want to know how you can send mousotron results to your own website, please click on the following link :
Mousotron Score Submission
Customized versions
Mousotron has already been chosen for a charity event (LOGICA Sourithon Challenge 2009) where the number of miles traveled would result in a donation for good causes or charities. For this purpose I created a few dedicated result webpages. If you're also interested in possibilities like that, please contact me.
Screenshots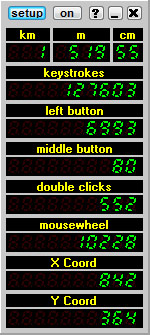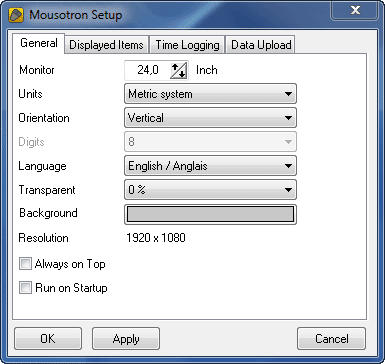 Features
- display number of keystrokes
- display number of mouseclicks (left, right, middle and double)
- Scroll Wheel Support
- X and Y Coordinates
- Idle Time Counter added
- view distance in Metric system or English system
- Time logging and display in several modes
- Saves distance history
- configurable display options
- Animated background (turn on/off option)
- Upload your scores online
- Support for all types of mice and keyboards
- Support for all monitor sizes
- Multiple Languages : English, French, German and lots more
- Horizontal or vertical alignment of counters
- Runs on startup
- Easy Setup
- Stay-on-Top option

New in this version
- 12.1 : Double clicks added for XButton 1 + 2.
- 12.1 : Hook initialization changed.
- 12.1 : Debug info added.

- 12.0 : Old components removed (RX).
- 12.0 : Error 103 bug fixed again.

- 11.0 : Error 103 bug fixed.

- 10.0 : Mouse buttons 4 + 5 added (XButtons).
- 10.0 : Data import/export functionality added to transfer counter values.

- 9.1 : UI Font updated for Win 7/8.
- 9.1 : Data upload version updated.

- 9.0 : Idle Time Counter added.
- 9.0 : Option added to start minimized.
- 9.0 : Development environment major upgrade.
- 9.0 : Better Theme support.
- 9.0 : Small layout changes.
- 9.0 : Other small improvements.

- 8.2 : Log file location changed.

- 8.1 : Decimal separator error fixed.
- 8.1 : Popup menu standardized.

- 8.0 : Systemwide mouse and keyboard hook improved.
- 8.0 : Layout improvements.
- 8.0 : Logging and Debugging improved.

• a full release history with changes is included in the helpfile.
Awards